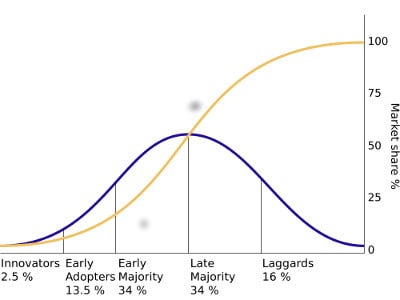 Fiber to the home (FTTH) deployments are set to ramp up significantly over the next two years. Especially in the US, we are now moving from the early adoption phase into the early majority phase of this market.
This means operators face two competing pressures. They need to connect up new subscribers cost-effectively but also need to move fast if they are to grow their business by being the first to offer FTTH in a neighborhood. First-mover advantage is the best way to stop your competitors from muscling in on your market penetration.
This puts the spotlight on the last drop connection - often the most complex and time-consuming part of the network rollout and, consequently, the most expensive on a per-foot basis. What makes it expensive? The vast majority (up to 70 per cent) of the cost of these connections is labor. Therefore, anything that reduces labor time and expense will help meet the cost and speed pressures described above.
However, how can operators reduce these labor costs and increase deployment speeds, without impacting quality or customer service?
To understand the options, it is worth taking a step back and looking at the traditional fiber installation model. This method requires extremely well-trained, skilled teams that can carry out complex techniques, such as fiber splicing in the field for last drop connections. Not only are engineers with these skills expensive to hire, but they are also a relatively rare commodity, meaning they cost more (if they are available at all) - particularly in areas where there is a lot of competition for skills. Fiber splicing itself is not a foolproof process - it can be time-consuming and requires specialist, expensive equipment.
This traditional model simply doesn't scale for mass last drop fiber deployments. What is needed is a way of increasing roll out capacity and reducing the labor component of the bill. One way of achieving this is through plug and play technology.
What is plug and play?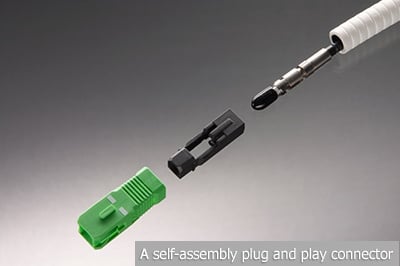 As the name suggests, the installer simply plugs the cable in at either end, dramatically reducing the time and skills required. Indeed, many US municipalities have used their in-house electricians to carry out last drop plug and play installs.Essentially, plug and play (or pre-terminated) fiber cables remove the need for fusion splicing or other specialist techniques, such as using mechanical/ field fit connectors.
Ease of deployment doesn't come at the expense of quality. As plug and play cables have been pre-terminated in clean room conditions, they are certified to meet the highest quality levels of polish and geometry, as well as the best optical performance standards. Operators simply order a range of lengths of pre-terminated cable and can store any excess in cable boxes at the end of the deployment.
Benefits for all
Plug and play delivers major advantages for everyone involved in an installation:
1. The chief financial officer
By reducing the skill levels required for each install, labor time and wages are dramatically lower - by up to 70 per cent in some cases. Lower skilled staff can carry out installs, with minimal training required, using faster than traditional techniques - yet with no negative impact on quality. That's not to say that the operator can do without higher skilled staff - they are vital, and it makes sense to deploy them where they deliver the best value, in backbone or more complex installations. After all, you wouldn't employ a Hollywood director to shoot your home movie or send a specialist surgeon to give a flu vaccine.
2. The network planner
Plug and play technology also gives more flexibility to the network planner. As cable tends to be provided in standard lengths, they can plan accordingly, knowing they have additional cable to use if unforeseen problems crop up. As mentioned, excess cable can be easily stored out of sight, where it cannot be seen or tampered with. This excess cable is a small cost compared to the cost of labor. By investing in planning and having a supply chain that can quickly deliver optimum lengths for each install these extra costs can be largely designed out.
3. The installer/contractor
Contractors are under pressure to deliver as many installs per day as possible. Indeed, in some markets they have quotas to hit, and will lose money if they fail to complete a set number of deployments. At the same time, they have to guarantee quality if they are to retain operator business. By speeding up deployments through plug and play technology, and using less skilled staff, they maximize productivity, while ensuring quality and reduced costs.
Cost is still the biggest factor holding back FTTH last drop deployments. Removing the need for skilled labor by using plug and play/pre-terminated cable is proven to speed up installations and reduce expense. Therefore, now is the time for network planners, contractors, and CFOs to take a serious look at how it can help them accelerate the rollout of FTTH networks.
Image 1: Wikimedia https://commons.wikimedia.org/wiki/File:Diffusion_of_ideas.svg Based on Rogers, E. (1962) Diffusion of innovations. Free Press, London, NY, USA.