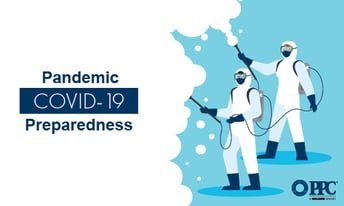 The rapid, global spread of COVID-19 has made companies like ours establish and implement pandemic preparedness plans to ensure the safety of our employees, customers and visitors.
We're following recommendations from the governments where our facilities are located, and carrying out company-wide measures to combat the spread of coronavirus.
In this blog, we're sharing details of facility modifications and other procedures put in place to address this pandemic and other potential future health and safety concerns.
Safer Work Environment with Facility Modifications
We've made many modifications to our headquarters in Syracuse and across all global facilities to ensure a safe work environment for our employees during the coronavirus pandemic.
At our locations, we have installed ionized air filtration units to reduce harmful airborne pathogens. We're also increasing the ventilation of fresh air from outside the facilities to reduce risks of exposure.
Additional changes to the daily life at our Syracuse headquarters includes:

Halting food service in our cafeteria
Distancing seating in cafeteria and meeting rooms
Adjusting shift times to better sanitize workstations between shifts
Installing touch-free soap and towel dispensers in restrooms
Adding sanitation stations throughout buildings
Equipping all doors with hands-free foot levers
"Prevention First, Safety First" Health Procedures
PPC is following recommended procedures and guidelines by implementing a "Prevention First, Safety First" policy. This promotes employee safety and well-being with minimal impact on our customers.
We've implemented a set of requirements for employees and visitors as they enter the buildings to help mitigate the spread of COVID-19. Each person must use a touchless kiosk to scan their temperature and fill out a brief questionnaire about symptoms and possible exposure to the virus.
No individual with a temperature of 100.4°F (38°C) or higher will be allowed to enter a PPC facility. Likewise, anyone who acknowledges coronavirus-like symptoms, has had contact with a COVID-positive person, or has visited any location listed on the CDC COVID-19 Travel Recommendations and NY COVID-19 Travel Advisory will be asked to quarantine for 14 days before being admitted into a PPC location.
All employees and visitors are required to wear a face mask and follow social distancing guidelines while on PPC property.
PPC has enabled much of its office staff to work remotely and to collaborate electronically. In an added effort to mitigate risk, departments have been asked to limit the number of employees onsite at any given time and hold virtual meetings whenever possible.
PPC Offers Virtual Technician Training Sessions
PPC leads the industry when it comes to training and support. While in-person training sessions are impossible with COVID-19, we are working to provide our customers with the support they are accustomed to.
With limits on travel, we've created virtual training sessions to simulate the traditional training experience, all while keeping ourselves and technicians safe. By conducting the training sessions virtually, our team offers interactive instruction, answers questions in real-time, and offers a post-training assessment.
Virtual training has become a favorable alternative in order to secure the safety of ourselves and others.
While the COVID-19 pandemic disrupts the world in a multitude of ways, companies like PPC have taken the opportunity to implement alternative measures to promote a safer work environment while still providing customers with world-class service and support.