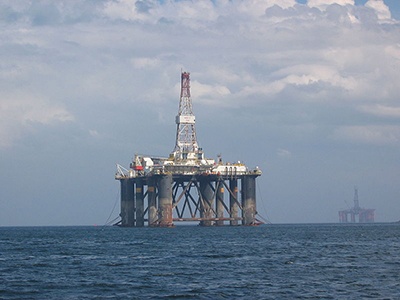 The equipment used in oil and gas extraction has to be able to cope with the harshest of environments. From the sub zero temperatures of Alaska to the heat of the Middle East and the storms of the North Sea, both onshore and offshore platforms have to survive in the toughest conditions.
And climate is just part of the issue. Space is limited meaning everything is located close together and has to withstand the vibration, friction and heat caused by the constant operation of drills, pumps and other mechanical equipment. Salt water, sparks, ultra violet rays and corrosive chemicals used in the extraction process can all take their toll, causing vital devices to fail, with a major impact on production.
Today's oil and gas industry runs on real time information and needs to share it across the facility itself and with other locations. Fibre is therefore becoming the network of choice as it can handle huge amounts of information, and unlike copper cables, there are no risk of sparks and consequent damage. These are just some of the areas that fibre cables are connecting:
Transmitting data from vital sensors (often in difficult to reach areas) to control rooms
Controlling remote equipment around the rig/facility
CCTV, both to protect the security of the facility and to monitor operations
Motion detection on the perimeter of facilities to guard against intrusion
Entertainment, providing video on demand across the facility to keep the crew happy and productive
In most oil and gas facilities operations are split into self-contained sectors, such as drilling and communications, so fibre networks have to transmit data inside each one and then link them altogether to provide an overall infrastructure.
Therefore protecting equipment such as fibre cables is now crucial to the efficient and safe operation of oil and gas facilities. PPC and the Miniflex product range provide a number of advantages to the safe operation of fibre networks within oil and gas:
1. Tough. Created with world-leading crush resistance, Miniflex is able to withstand extreme pressure (up to 1400 Newtons), without affecting the protection it provides.
2. Flexible. The unique, patented design of Miniflex means it is ultra flexible and can easily fit into the smallest gaps.
3. Reliable. Our technology is proven to reduce the need for ongoing maintenance as it is more reliable and does not require specialist skills to install or upgrade it.
4. Lightweight. The low weight of the cable makes it easy to handle in confined spaces and move into position.
5. Fast to install. Our patented, pushable technology means fibre can be rolled out by non-specialist teams simply by pulling or pushing the cable through the duct. This reduces installation time and costs, leading to substantial savings.
Information is becoming central to the operation of oil and gas facilities and rigs across the world. Fibre provides the backbone for today's facilities – meaning that protecting it is a high priority for organisations across the globe.