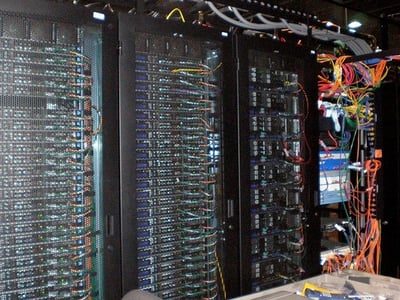 The move to the Cloud and explosion in Big Data is driving unprecedented growth in the data centre market. Analyst company TechNavio forecasts a 10.7% global compound annual growth rate in the years up to 2016. And data centres themselves are becoming larger and more central to business operations. Over the same timeframe IDC predicts that US data centre total square footage will rise from 611.4 million to 700 million, even though the number of facilities would drop by half a million. IDC analyst Richard Villars believes that "The datacenter is evolving from a term to describe a room or building where I put my IT equipment to a term to describe the facility on which I'll build and run my business."
Data centres are complex environments, with particular needs. Continued availability is crucial, meaning they have to meet stringent Service Level Agreements (SLAs) but at the same time it must be simple to move, add or replace equipment without disrupting operations as requirements change.
Working with major data centres around the world, PPC customer HUBER+SUHNER specialises in providing the structured network connectivity that is vital to ensuring data centres perform reliably, efficiently and with the lowest possible total cost of ownership. Its Leading Interconnect System Approach (LiSA) provides a high density cabling infrastructure that combines optimum performance with flexibility to adapt to future needs.
We've worked with HUBER+SUHNER for over six years and it relies on our Miniflex protective tubing to safeguard fibre cables within the Optical Fibre Distribution Frames (ODFs), which provide the data connections to the individual slide-out trays within data centre computer racks.
PPC provides 1 million metres (3.3 million feet) per year of protective technology into data centres, increasing at a rate of 50,000 metres every month. PPC's ultra compact, ultra tough and ultra lightweight solutions have been designed specifically to meet the reliability, cost and space demands of data centres and Main Equipment Rooms (MERs).
Data centre operators want to maximise performance, but minimise the size of equipment. High density ODFs are therefore becoming standard, meaning suppliers like HUBER+SUHNER have been designing higher and higher port density on moving tray fibre panels, with its latest product having 4032 ports.
As fibre cables become smaller and ODFs denser it becomes imperative to manage the moving tray fixed cabling to prevent it becoming the weakest link. That's where Miniflex protective tubing is critical. Through its pre-tubed infrastructure each frame can offer fibre management by design while being easy to install with a slit zipped tube offering. Trays need to be able to move in and out so that contents can be accessed quickly. The flexibility and high crush characteristics of the Miniflex tubing make this straightforward, protecting cables as they bend or move through confined spaces. With Miniflex permanent fibre cabling is exactly that, permanent.
Ensuring that information flows freely around and into/out of the data centre is crucial with growing volumes of data are being transmitted at high speed. The combination of PPC and HUBER+SUHNER delivers the protection and cabling infrastructure needed by all types of data centre, underpinning their successful operation, wherever they are located around the world.
Image by Sean Ellis