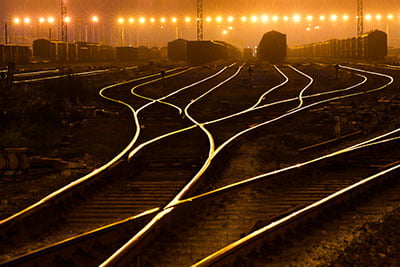 We live in a world that relies on real-time information, and fiber optic networks are critical to transmitting this data at the speed of light. This is as true in industrial and outside plant environments as in Fiber to the Home (FTTH) deployments. Installing fiber networks in industrial settings is extremely complex, with challenges around space, limited potential routes and a need to protect fragile fiber against dust, dirt, damage and vibration.
Fiber for railroad signaling
The perfect example of this is a recent fiber deployment we worked on with a major US railway operator. It was within one of their largest yards, where fiber for signaling systems was being completely replaced. This was a mission-critical communications system for the railroad – without it the yard simply couldn't operate, with a dramatic impact on the company's entire operations. In such a tough environment, fiber has to cope with vibration from passing trains, changing climatic conditions and accidental damage from employees and equipment.
The route itself was complex – the fiber had to go through four 90 degree bends as well as turn through 180 degrees on its journey. It also had to be installed quickly to minimize disruption to operations, with deployment happening in a tight, weekend timeframe.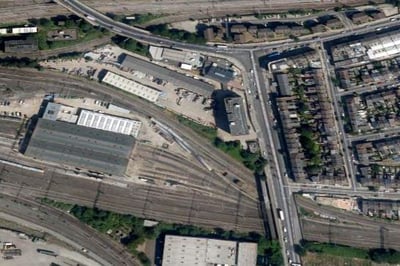 Pushable fiber signals success
When they saw the scale of the challenge, the railroad's engineers looked at a number of potential solutions. Having met with PPC and CORE Telecom, at a trade show they wanted to see how the PPC Miniflex® pushable fiber compared against other fiber products. CORE sent them a reel of PPC fiber cable overnight Friday, and they tried it alongside two rival products during the installation. The fiber cable was installed in Duraline 1¼ inch duct, with 8mm tubes inside it.
Here are the results and the feedback we received from a very satisfied customer:
The route was nearly 3000 feet (2787 to be exact), including the bends described above.
Installation was aided by a pressurized air assist pushing machine.
The railroad's own team, who'd never used Miniflex before, successfully pushed the 12 count fiber all 2787 feet.
The installation took just 30 minutes – and that includes moving the reel from the dock to the installation site.
Even at the end of the run the fiber was still being pushed at speeds of 168 feet per minute.
In comparison, a rival's product only travelled 800 feet, under the same conditions and route.
The crew highlighted that the patented grooves on m2fx's fiber made it by far the easiest to install.
This vital fiber optic network for the railroad's signaling was completed ahead of time, with no disruption to operations, and resulted in a very satisfied network planning team and crew. As the crew foreman said, "this fiber was easily the best match for our needs – going forward it is all I want to use!"
As they carry more and more information, industrial networks increasingly rely on fiber optic technology, underpinning how businesses in all sectors operate. Whether it is inside factories, transportation hubs or warehouses, networks have to be tough, high performance and reliable. With complex requirements and tight timescales, planning and implementing these deployments is difficult, but as the railroad's experience shows, pushable fiber provides the perfect solution for fast, efficient and high quality installations.
This is post was written by Richard Wragg, Regional Sales Manager at CORE Telecom. Richard has 40+ years experience in the telecommunications/CATV industry.