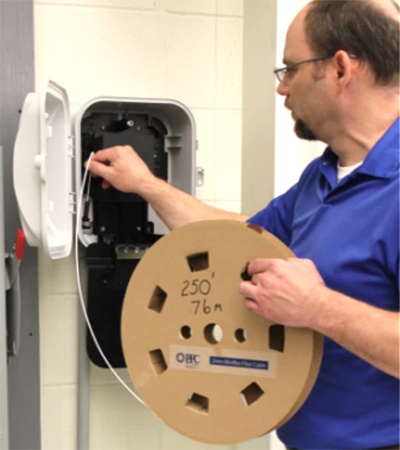 Pushable fiber can be installed quickly and cost-effectively as the fiber drop for the final few hundred feet of a network.
The beauty of pushable fiber is that less skilled labor and less expensive equipment are required.
Another option is pulling, which is typically used for longer distances. Unless the microduct already contains a pull-cord, it will first require the cord to be drawn into the duct, or a fish tape to be installed, both adding time to the install. Assuming a pull-cord exists, it will, of course, need to be removed for pushable applications.
Compared to blowing fiber, both of these approaches are more flexible in terms of the number of crew members and the logistics or access to the duct. Blowing fiber also requires expensive equipment, and takes time to set up and dismantle, limiting the number of installations possible in a day. In some cases, blowing equipment may not be permitted on-site for reasons of access, disruption and safety.
Given that labor accounts for 80% of the cost of a typical FTTP implementation, using pushable fiber is a huge cost advantage. Reducing the deployment time, less equipment and lower skill sets translates to big savings and can make the difference between the overall project being viable or not. Pushable fiber is also highly scalable in terms of uptake or subscription rates, costing little labor and equipment to deploy fiber whether it's to a single home, or multiple homes in a single pass.
Pushable fiber is typically pushed by hand. It is possible to push cable into a property in just a few minutes with indicative speeds of 20-50 feet per minute, (operator dependent). This can dramatically increase the number of deployments a crew can achieve in a single day, particularly when used in conjunction with pre-terminated pushable connectors. Pre-connectorization means that there is no need to train technicians to operate expensive fusion splicers - a specialist skill that pushes up install costs.
Before pushing fiber in the drop network, here is what you should address to make the most efficient use of your installation time:
1. What route are you going to use?
Fiber is typically installed through utility pathways, but these are often old, congested and may not even be properly mapped. When planning a route here are some areas to focus on:
What are the easiest/most commonly used pathways?
How congested are they?
Does a dedicated microduct "raceway" need to be installed?
Is riser rated or plenum rated cable required?
Can redundant cables be removed first?
What construction work is needed to ensure your route is usable?
What permissions do you need - for example, if you have to drill through walls?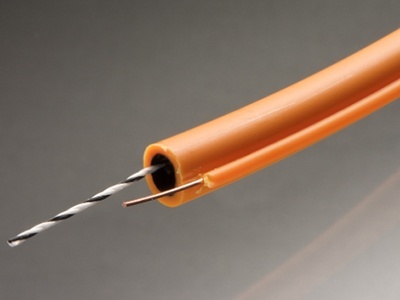 In MDUs, once fiber cable reaches a floor you need to plan how it is distributed to each unit or apartment. Given this is normally a visible, common space, picking a solution that is aesthetically appealing is vital.
Fiber cable can be run through existing wall cavities or false ceilings, keeping it out of sight or, alternatively, it can be pushed through additional microducts, either surface mounted or hidden behind walls and ceilings.
2. Plenum or riser?
Whether you use a plenum or a riser deployment depends on the type of space you are installing into. Bear in mind that whichever you choose you will need to meet relevant local fire regulations – which do differ between countries.
Check the materials you are using and, in particular, areas such as the riser burn ratio and fire stops between each floor. Look at the National Electrical Code (NEC) in the US as a start point - and remember that the installer could be liable if things go wrong, and the deployment has not been properly certified.
3. How do you gauge it?
Consider conducting a site survey to be sure the application will be successful (not a mock up yard). This allows you to stress test your plan. Which technique or combination worked best within the architecture? Did you use the amount of materials you expected? Which technique delivered the best overall performance? Are there refinements in the solution that can be passed to the wider team? Does the cost model still add up?
Finally, when you are prepared, the steps below will ensure a smooth, fast installation:
Set up the cable caddie in close proximity to the microduct access point. Ensure the ducts are clean/dry and that there are no obstacles to impede installation.
If the duct that has been placed contains a pre-installed draw-string, it will need to be removed by simply pulling it.
Where the duct exits the route, it should be brought up to ground level since it's easier to conduct the pushing above ground rather than inside a chamber.
The duct end should be cut perpendicular to the length with burrs removed.
Carefully push the cable through the microduct with short lengths inserted at a time to avoid any chance of kinking.
Secure an adequate amount of slack at each end for final termination, and seal the duct ends if the specification requires it.
With less equipment and skillsets required, pushing fiber to the home takes a fraction of the time of more static traditional methods, such as blowing, burying, hanging or fixing fiber cables. As well as speeding up subscriber connection rates and saving operational costs, it also represents a modular, future-proof fiber network solution that can be revisited and upgraded easily, should the future demand it.