If you live in a rural location, super fast broadband roll-outs can take a long time to reach you - but if you're still waiting to be connected to fiber, spare a thought for Father Christmas. You can't get much more isolated than the North Pole - the nearest cabinet is hundreds of miles away, and sub-zero conditions make installation a logistical nightmare.
Santa's Email Explosion
Like a lot of rural dwellers, Santa Claus needs fiber broadband. Analysts estimate that the number of emails sent to Mr. Claus' workshop at the North Pole now exceeds the number of traditional letters he receives. With the increase of the global digital population, combined with ever increasing postal charges, boys and girls both naughty and nice now prefer to email Santa than put pen to paper.
Furthermore, they want to send Santa increasingly large image attachments to explain their lists. For example, links to YouTube videos are common. Some children even email vlogs to prove how good they've been this year and how much they deserve the Nintendo Switch, Custom Crayon Set or whatever else they have asked for this year.
While his mailroom now falls silent in the weeks approaching Christmas, his server cabinet is getting busier: buzzing, whistling and groaning under the massive strain. There are millions of emails bouncing in from across the globe. Just type "email Santa" into any popular search engine and you'll find innumerable helpers willing to personally forward your Christmas list to the big man himself.
Project Fiber Christmas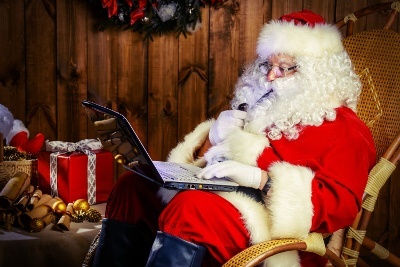 Everything was fine in those early internet days, as Santa got his elves to install the very latest in satellite broadband technology, giving him a serviceable 2Mbps connection.
But, as this Christmas approached, all those emails and videos soon began to eat into Santa's bandwidth. At one stage, back in November, there were several sightings of Santa's sleigh across the northern hemisphere, as he searched for a reliable 5G or Wi-Fi hotspot where he could sync his inbox.
The price for upgrading his satellite to the latest Ka-band would have seen his monthly ISP subscription more than quadruple - leaving little cash for presents and a lot of disappointment on Christmas morning. Faced with the prospect of not receiving Christmas lists in time this year, Santa saw the light and accepted an offer from one solutions manufacturer to connect his workshop using the latest in optical fiber technology.
For obvious reasons the entire project had remained a secret since its inception, and we can't tell you the precise route of the fiber cable for security purposes. However, we can reveal that, following a successful installation, Santa's workshop is now ready for the gigabit age and the internet of things (IOT). Benefits include:
Elf Hugo, the Post Master General, can now manage all the millions of emails received at the North Pole Post Office and Communication Center.
Elf Ernest, who gets almost as much mail as Santa, can now more easily respond to all the general inquiries he receives as the public relations elf at the North Pole.
Elf Billy, who has the important role of monitoring the global weather stations from around the world, can now rely on real-time streaming data to keep Santa and his reindeer on a safe flight path this year.
Mrs. Claus has time to catch up on all the Christmas streaming she's missed while making all those cups of tea.
The only other information we can divulge at this early stage is that the fiber installation utilized various approaches, including cable in duct, direct burial and aerial applications, to reflect the complex route to the North Pole.
It was a tough job but thanks to the latest in fiber cable technology - and some help from Rudolph and the other reindeer - the entire process couldn't have been simpler.
As one Elf installer said: "Minimizing network disruption and the obvious need to keep everything secret were paramount; so the speed at which the pre-terminated cables were connected and the reduced level of tools and equipment required by the crews were key to the success of the project. Absolutely no Elf Magic Dust was required. We're very happy - all I can say is that the team at a certain cable manufacturer has earned themselves a big present this Christmas."
Merry Christmas from all at PPC