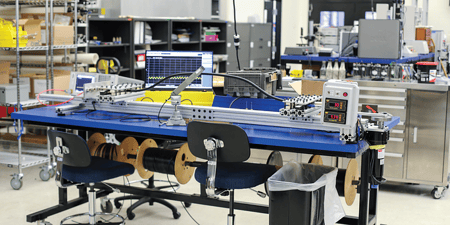 The pressure is on for design engineers and manufacturers to develop new, quality products to function in broadband and wireless networks. To maintain a business' reputation, it is crucial to enact strict processes to ensure products meet and exceed customer expectations. This can be done through product testing, which guarantees a quality solution by conforming to recognized industry standards.
In this blog, we explore available testing methods and important quality standards to meet, as well as the potential consequences if product assessments are not completed.
Product Defects Pose Risks to Customers
Defects are any characteristic that hinders a product's effect on customer usability. Even upon intended use, device defects can lead to serious injuries to an installer or a customer. Additionally, a single defective product can cause an avalanche of errors within a network, facilitating poor quality for a subscriber.
What are the best ways to avoid these shortcomings? Rigorously test products to confirm quality. Below are some conventional tests that can be used to guarantee products align with industry requirements and expectations to support broadband network architectures:
Durability Throughout a Product's Lifetime
Throughout a product's lifespan, there are several conditions that can break down the product's effectiveness and hinder performance. When determining safety for product use, it is critical to understand potential influences such as environmental factors or pressure loading. Consider applying these four endurance assessments when testing fiber and copper products:
Environmental Aging - Conducted to simulate extreme environmental conditions by designing a temperature and humidity cycling profile based on each product's specific requirements, and monitoring performance over a specified number of completed cycles.
Moisture Ingress Testing - Real life weather survival of outdoor products is gauged by immersion in a red dye solution with temperature cycles, followed by dissection and microscopic examination for evidence of red dye ingress.
Pull Strength - Confirming the ability of product material to withstand pulling force by measuring breaking strength, elongation, pull force and more.
Temperature Cycling - Verifies product performance against repeated cycles from -40 °F (-40°C) to 185 °F (85°C) with a quick transition between temperature extremes.
Understanding Network Level Functions
In a broadband or wireless system, a valuable solution creates no conflicts within the network. It is vital to test individual products in the type of systems where it will function to guarantee a healthy network application, including:

Optical Performance – Consists of two major assessments: insertion loss and return loss. These tests, commonly conducted on fiber optic cable assemblies and filters, determine if connections are properly mated and do not cause loss of signal throughout a system.
Radio Frequency Interference (RFI) - Commercial or residential devices can radiate RFI, and devices that absorb RFI may fail or degrade in performance. The RFI test checks whether a device is sufficiently shielded against interference absorption and confirms it is not radiating RFI. These RFI tests can be completed on coaxial products, such as drop cables and connectors, hardline cables and connectors, adapters, filters, splitters, couplers, terminators, amplifiers, and power supplies.
Quality Guarantee First
High reputation products are dependable, while unreliable solutions can lead to negative consequences for safety, maintenance, and repair or rework costs. Quality assurance is critical to prevent defects from arising during the manufacturing of products for a system.
Before distribution, a product must meet the requirements of various tests, standards, and certifications to verify its quality and safety. Some industry committees and standards widely followed include:
ISO 9000 – A family of quality management systems that sets standards to help organizations meet customer and other stakeholder needs within regulatory requirements related to a product or service.
SCTE - An industry standards committee supporting cable telecommunications. SCTE provides input and expertise on new, developing, and existing standards related to the Internet of Things (IoT), energy microgrids, proactive network maintenance, and more.
TL 9000 - A Telecom Quality Management System designed to meet supply chain requirements of the international telecommunications industry. The system ensures quality by defining network requirements central to the design, development, production, delivery, deployment, and maintenance of telecommunications products and services.
Other committees that offer their support in standard developments include IEEE, ANSI, and IEC.
Continual Commitment to High-Quality Standards
Developing business strategy and reputation relies heavily on a commitment to the steady, long-term improvement of products and processes. Sustaining high-quality product performance through safe and reliable testing can lead to lifelong loyalty from broadband subscribers.
PPC is committed to offering a variety of solutions that meet a customer's specific system requirements, and to delivery quality products central to critical network applications.