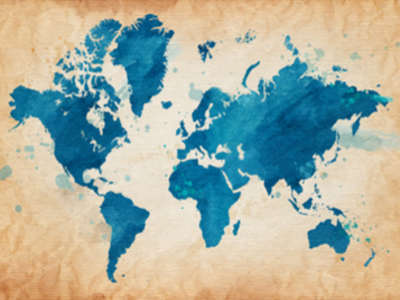 The global broadband market is becoming increasingly mobile. According to data from the International Telecommunication Union (ITU), mobile broadband subscriptions have grown more than 20 percent annually in the last five years, and 4.3 billion people worldwide are expected to be using mobile broadband at the end of 2017. According to the OECD, mobile broadband penetration was at 99 percent across the 35 countries they represent at the end of last year.
It's unsurprising, given the continued increase in the use of smartphones and tablets, the affordability of mobile broadband, and advancements in 3G, 4G - and soon to be 5G. But what does this mean for the fixed broadband market?
At a time when use of cloud services is increasing and we're seeing a shift from connecting people to connecting devices, the sheer volume of data traffic means fixed, high-speed internet access is more important than ever. Industry research highlights that in the U.S., although broadband is becoming increasingly mobile, there are very few households that depend solely on mobile for their broadband service.
From a global standpoint, the fixed broadband market is still growing. According to the ITU, the number of global fixed broadband subscriptions has increased by 9 percent annually in the last five years. The Broadband Commission predicts 1 billion subscribers worldwide by 2019, compared to 884 million in 2016.
In this blog we provide you with a roundup of what's been happening in fixed broadband markets around the world.
North America
OECD data from the end of last year revealed there to be 106.3 million fixed broadband subscribers in the United States.
Lack of rural broadband availability continues to impede on the prospect of a fully penetrated fixed broadband market. However, broadband companies are focusing on ways to reduce the gap in high-speed internet access in hard-to-reach areas of the country. And Microsoft recently launched the Rural Airband Initiative, which aims to bring better broadband to rural Americans over the next five years.
Cable continues to lead the way in fixed broadband subscriptions. Cable's share of broadband net additions was at 105 percent in the first quarter of 2017, according to Moffett Nathanson. However, the slowing growth of the overall broadband market is catching up, with cable growth also slowing. Though it still remained at a healthy 6 percent (versus 6.8 percent growth at the start of 2016).
A market forecast from Global Market Intelligence predicts the cable broadband household share to grow steadily from 51.6 percent in 2017 to 52.7 percent in 2025. Fiber is predicted to rise from the current 4.5 percent to a whopping 23.2 percent, and DSL is expected to drop from 42 percent to 23.5 percent by 2025.
Europe
Of the 35 countries in the OECD market, Portugal had one of the highest year-on-year growth rates in fixed broadband penetration, with 7.6 percent. It was also one of the fastest growing countries in mobile broadband penetration.
Germany, France and the UK were among the top five fixed broadband markets of the OECD countries, with 31.9, 27.7 and 25.3 million subscribers respectively.
DSL broadband subscriptions lead the way in Europe. Data from the ITU showed that per 100 inhabitants, 18.8 percent have DSL, 5.7 percent have cable, and 3.8 percent have fiber.
Asia & Pacific
According to PR Newswire, China has the largest fixed broadband market in Asia, with 213 million subscribers and a penetration of 53 percent in 2017. China Telecom and China Unicom are the biggest suppliers.
In second position is South Korea, with a fixed broadband subscriber penetration of 41 percent. In third is Hong Kong, with 32 percent. Japan has 30.6 percent penetration according to OECD data from the end of 2016.
ITU data shows fiber broadband is leading the way in this market. Of every 100 inhabitants, 6.1 percent are fiber broadband subscribers. DSL infrastructure follows second, with 2.6 percent.
Africa
Market research firm Dataxis predicts that 20 million households and businesses in Africa will have fixed broadband by 2022, compared to 11 million in 2016. Though growing, it will still lag behind the rest of the world with a penetration rate of 1.9 percent.
Fiber broadband growth has been strong in recent years with Africa's 'FTTH boom'. However Dataxis predicts ADSL will remain the most used broadband infrastructure, with 81 percent of the fixed broadband market in 2022 (compared to 95 percent in 2016).
Middle East
Despite the growth of mobile broadband, there is still an enormous amount of investment in fixed broadband taking place in the Middle Eastern region, according to BuddeComm.
The broadband market in the UAE remains one of the most advanced regions worldwide, and is the global leader in fiber. Bahrain and Israel both have high broadband penetration, with services available via ADSL, cable, and fiber optic platforms, as well as wireless broadband. Lebanon has consistently trailed behind, but is expected to improve significantly in coming years with a focus on increasing fiber networks.
These figures show that despite increased mobile broadband penetration, fixed broadband is still growing, and will continue to do so. Will we see 1 billion fixed broadband subscribers in 2019 as predicted by the Broadband Commission? Will the U.S. close the gap on high-speed internet access for rural America? And how will the market share change as fiber continues its impressive growth? We suspect it will be an interesting and exciting few years for the fixed broadband market as we continue on an increasingly digital path to the future.