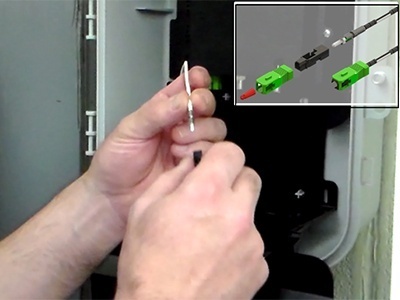 Fusion splicing is often used and is appropriate for trunk portions of a network; it offers low optical and reflection loss and splicing efficiency for large fiber bundles.
When it comes to the drop network, however, with only a couple of connectors per drop, you can achieve substantial cost savings by using mechanical connections or pre-terminated fiber cables. Using fusion splicing in the drop adds time and cost.
In this post, we will examine the impracticality of fusion splicing in the last few hundred feet to the premise vs. cost savings from mechanical optical connections, and pre-terminated fibers.
Optical loss
The typical loss budgeted for a fusion splice is 0.1dB and 0.3dB for a mechanical connector. Considering that most subscriber drops will have two localized optical connections between their devices and the distribution network, using connections that install fast and with ease should be considered. It is highly unlikely that the optical loss budget in the network design will be affected by these last two connectors - because the loss in each drop is not aggregated in the distribution network, there will be negligible impact on the loss.