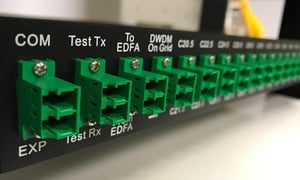 PPC Broadband, Inc. has acquired the Nebraskan-based fiber provider, Net-Tech Technology (NT2) - a move that will add a range of innovative optical passives products to PPC's fiber business unit.
"Broadband providers are driving fiber deeper into their networks, increasing speed and capacity to meet subscriber demand," says PPC President Dave Jackson. "The year-over-year spend continues to increase and we believe this trend will continue well into the future."
Innovations that help solve problems
NT2 was founded in 1994 and headquartered in Omaha, Nebraska. It offers specific expertise in fiber transport and network optimization, and has focused on the production of custom configured optical passives.
The company has primarily operated in the cable TV and broadband space as a major provider of products to U.S.-based service providers.
Paul Kaplan, PPC Vice President of Fiber Optic Business Development, says "NT2's growth has been fueled by responsiveness - with innovations that help solve problems, combined with the shortest lead times in the industry.
"PPC/Belden shares our service culture and we look forward to building on this legacy as part of a company with extensive engineering, sales and support capabilities."
New optical fiber solutions
The acquisition of NT2 significantly enhances PPC's existing product portfolio and provides a share in the headend and outside plant optical passives market - a range of devices, which Jackson describes as "necessary components" as the company expands its fiber product roadmap.
"Specifically they help customers gain bandwidth in existing fibers using Dense Wavelength Division Multiplexing (DWDM) to insert more wavelength channels on a given fiber," Jackson says.
Among the range of new products that the acquisition of NT2 will add to PPC's fiber offerings are:
Wavelength Division Multiplexing (WDM)
Band Wavelength Division Multiplexing (BWDM)
Coarse Wave Division Multiplexing (CWDM)
Dense Wave Division Multiplexing (DWDM)
Optical Add Drop Multoplexers (OADM)
Optical Splitters
PPC and NT2 are excited to work together to provide a more robust fiber solution for its customers around the world. If you are interested in learning more about these products, please contact our customer service team at +1 800 800 6652 or customerservice@ppc-online.com.