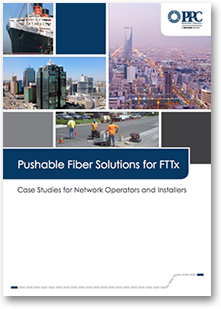 Around the world, people are increasingly demanding high speed fiber broadband. However, operators are coming up against a common problem: the "last drop".
PPC's vision has always been to speed up this final leg of an installation. In this eBook, we will look in detail at four case studies that highlight how we have helped operators achieve this, through our Miniflex pushable fiber.
You will find out how:
Costs were reduced by up to 76% in Loma Linda, California
Liquid Telecom connected 10,000 FTTH users in Zimbabwe
Saudi Arabia operator Mobily reduced installation time by 50%
Fiber was installed at The Queen Mary Hotel for 60% less
So fill out the form and get your copy sent to you right now!