Industrial Dielectric Armoured Cable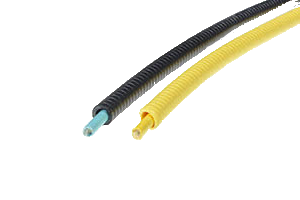 The Miniflex™ Industrial Dielectric Armoured Cable is a fiber optic all-dielectric backbone cable that is a direct replacement for traditional aluminum interlocking armour distribution cables.
For use as backbones in industrial Ethernet applications, the Miniflex™ Industrial Dielectric Armoured Cable provides high-density connectivity and ease of installation. The all-dielectic construction eliminates the need for grounding and bonding and offers similar performance to traditional cables with the added benefits of lighter weight, smaller crush resistant pathway, and protection against conductivity.
Options include standard cable, LSZH and Plenum.
The cable solution presents the following top level value proposition to the end-user/installer.
Advantages
Strong – tensile load in excess of 300N; compressive load 600 n/cm
Robust – 6x the crush resistance of unarmored cable
Flexible – grooving allows the tough polymer conduit to be flexible
Small bend radius – 10x conduit OD
Easier installtion - no need to route through conduit
Applications
Industrial
Building backbones
In-building installation